Over the years, Star Trek non-fiction literature has amassed numerous famous authors whose works are adored by fans the world over. Without doubt, two of the greatest are Paula M. Block and Terry J. Erdmann. Terry and his wife Paula have had a long and distinguished career writing Star Trek non-fiction. Some of their highlights include the iconic Star Trek: Deep Space Nine Companion, Star Trek: Action!, The Secrets of Star Trek: Insurrection and Star Trek: The Original Series 365.
On the eve of the release of their latest tome, Star Trek: The Next Generation 365, we caught up with Paula and Terry to talk about their beautiful tribute to TNG in it's 25th Anniversary Year.

Paula M. Block & Terry J. Erdmann: TNG 365 Interview, Part 1
Interviewed by Adam Walker for TrekCore.com

TrekCore: For those fans who know nothing about the "365" format, could you tell us a bit about it, and how you came to be involved with "TOS 365" with Abrams Books, a project which led on to the amazing "TNG 365" which will be released next month?
Paula & Terry: Abrams came up with the idea for the first book—they wanted it as part of their very successful "365" series of coffee table books. These books are quite unique, full of stunning images. They've done 365 books on all sorts of subjects: the Beatles, the punk music scene,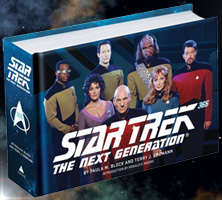 New York City, Star Wars, astronomy, Andy Warhol…. All different, but what they have in common is their unique dimensions—9 and ¼ inches wide by 6 and ¼ inches tall—and their format: 365 spreads, each featuring a beautiful full-page photo and a facing page of anecdotal information about the photo.
Once Abrams obtained the license to publish a Star Trek book like that from CBS (the current rights holder for all Star Trek consumer products, including publishing), they asked CBS who might be a good candidate as author. Paula had overseen Star Trek publishing for the studio for nearly two decades, and had co-written Star Trek behind-the-scenes books with Terry, who worked as a publicist on several Star Trek films. When Abrams came knocking, we accepted as a team.
TrekCore: Please tell us a bit about the inspiration behind "TNG 365". What propelled you to compile this amazing resource? You mention in the foreword that whilst writing "TOS 365" you always hoped that a positive fan reaction would allow you to create a version for TNG… The book's release coincides with TNG's 25th Anniversary. Is that just a happy coincidence, or did you plan it that way?
Paula & Terry: There are no coincidences! Our editor, Eric Klopfer, began talking about a TNG version of the book when we started turning in text and photos for the first one. He realized how cool that book was turning out, and promised that if TOS 365 was embraced by the fans, we'd do it again. When we pointed out to him that 2012 was TNG's 25th anniversary, he was more committed than ever.
TrekCore: The book contains a huge number of never-before-seen photographs. As a website which covers Star Trek media, we were shocked at just how many shots were new to us! Where do you find the photos? And can you give us an idea of how long it took to compile the collection? Who takes the photos?
Paula & Terry: The studio's publicity/marketing department assigned photographers to do still coverage of TNG while the series was filming. We knew the studio had binders and binders full of imagery; the licensing department had provided many of those images to licensees for use in their products over the years. Paula was familiar with what had been used and she worked very hard to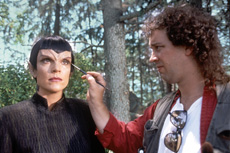 steer us away from the ones that had been seen over and over again. In the hopes of finding something new, she took an especially close look at the black and white photography. The licensees had always requested color shots. So while many of the color images repeatedly appeared in books and magazines over the years, very little of the black and white photography was used at all. On any given day on the TNG set, the assigned still photographer would shoot both color and black and white film, generally using one or the other to cover different angles, or even different scenes. It was in the black and white where we found many of the rarest behind-the-scenes shots, like early versions of costumes and hairstyles, cast and crew indulging in unscripted and rather unorthodox behavior, and actors attending script readings and rehearsals in non-regulation attire.
And there's another reason why these rare photos didn't surface earlier—back when the show was in production, the studio didn't like to release too many "behind-the-scenes" images because they felt that it would give away "the magic." They wanted people to focus on the show, not on how the show was made. These days, no one worries about that. The magic has been transformed into nostalgia.
TrekCore: You both have had a long and distinguished relationship with Star Trek reference books. What keeps bringing you back to the genre?
Paula & Terry: Well, for one thing, very few working authors say "No" when a book offer comes up! Contrary to belief, authors are rarely wealthy! Seriously, though, we love Star Trek in all its various permutations, so we're always happy to say yes to a request to do a new Star Trek book. We've been fans for decades—and always will be.
TrekCore: How does working on a non-fiction book differ from working on the Strange New Worlds short story collections, for example?
Paula & Terry: Fiction and nonfiction are very different animals and most authors tend to tame either one or the other. Paula worked on the Strange New Worlds books primarily as an editor—although she did get to include a Star Trek short story in Volume One that she'd written as a fan. Which is not to say we wouldn't like to write fiction—we both have bits and pieces of stories that we've started over the years—but we never seem to have time to finish them before a new nonfiction book commission comes up. Not that we're complaining about being too busy!
TrekCore: Looking through the book, I can't help but feel it's the perfect companion to the newly released TNG Remastered Blu-rays. Have you seen the Blu-rays yet, and if so – what are your thoughts?
Paula & Terry: It's a great companion to the new remastered sets. We heard about the Blu-ray remastering project while we were writing and hoped we could get a few images for the book, but our timing was off. We did get one really cool image late in the game—a shot of Denise Crosby's stand-in modeling the actual hairclip that inspired Geordi's visor. As for the Blu-rays themselves, we went to a movie theater to see the two remastered TNG episodes that were shown as a special event. They looked sensational. The Okudas and Dan Curry and the rest of the team are doing a wonderful job!
TrekCore: What kind of work goes into creating such a huge tome as "TNG 365"? Could you give us an idea of the effort and planning required?
Paula & Terry: We had a year to work on it, which was barely enough time. As with the last book, we had to work counterintuitively. With most books, the text comes first and dictates what illustrations to insert. But the 365 books are driven by the imagery. We spent hours and hours in the studio archives, working on light boxes and squinting through loupes (alas, much of the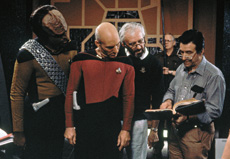 photography hasn't yet been digitized) to find the shots we wanted. Then it was up to Marian Cordry, the archivist at CBS Consumer Products, to scan all the images for us. It was a huge job and we owe her a huge debt of thanks for all those nights she spent in the office!
But we didn't stop there, of course. We interviewed dozens of people who'd worked on the show, and asked if he or she had any unique personal photos hidden away in a forgotten box or two. Production designer Richard James provided some great sketches, and visual effects producer Dan Curry gave us free access to his storyboards from the show, as well as some fantastic paintings. Prop making company MEL gave us a lot of material, shots of the props under construction or completed. And effects associate Eric Alba unearthed a treasure trove of candid photos that he'd taken while he was working on the show. We really appreciated it when artists Andrew Probert and Rick Sternbach—who established many of the iconic visual elements of the show—provided us with beautiful color sketches and paintings. And whenever we were stuck for an idea, scenic artist Michael Okuda stepped right in with an inspiration. After we had all of this, our task was to figure out what to say about each image. That's when we started frantically writing.
Go to Part: 1 2
| | |
| --- | --- |
| | Star Trek: The Next Generation 365 is available to buy now: |