Star Trek: The Next Generation 365
Paula M. Block & Terry J. Erdmann
Published by Abrams • Hardcover
744 Pages
With the launch of Star Trek: The Next Generation, Gene Roddenberry somehow managed to recapture lightning in a bottle. This new incarnation of Star Trek was an instant hit, and its popularity inspired four films and three spin-off television series. To commemorate the show's 25th anniversary, Star Trek: The Next Generation 365 provides a fresh, accessible overview of the entire series, including an authorized guide to all 178 episodes. Featuring rarely seen and now-classic photography and illustrations, this visual celebration of the voyages of Captain Picard, his crew, and the Enterprise-D offers a loving look back at the Emmy and Hugo Award–winning series.
A few weeks ago we had the pleasure of talking to authors Paula Block and Terry Erdmann about their latest Star Trek non-fiction title TNG:365. You can read the full interview here. In the meantime, please enjoy our full review of the book – a must-buy for every fan!
Star Trek: The Next Generation is undoubtedly undergoing an almighty renaissance in this, it's 25th Anniversary year. The much acclaimed remastering project has breathed life into a series which still captures the imaginations of millions of people around the globe. You could be forgiven for thinking that we've seen just about everything there is to see when it comes to this iconic TV series, but thumbing through the pages of Paula Block and Terry Erdmann's stylish new tome Star Trek: The Next Generation 365 proves that there really is a treasure trove of unseen material waiting to be appreciated by fans.
Paula and Terry are well known to fans of Star Trek for producing a series of exceptionally popular non-fiction titles spanning over a decade. Following the recipe for success they found with 2010's Star Trek: The Original Series 365, they've team up once again – this time putting The Next Generation in the spotlight.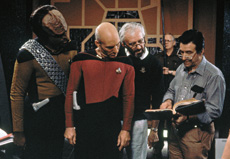 As a site which specializes in multimedia, especially images, I'd like to think that we're pretty familiar with the vast majority of photographs, designs and drawings from The Next Generation, so when I first set my eyes on the beautifully designed pages of TNG:365 I was somewhat taken aback at just how much new material is in there.
TNG:365 is a weighty volume bursting at the seams with hundreds of never-before-seen photographs and memories. Paula was in the fortunate position of having a wealth of material and personal experiences to draw from thanks to her time working in licensing at Paramount Pictures. Along with Terry, she has organized all this information into a sumptuous coffee-table book that you'll be flicking through for years to come.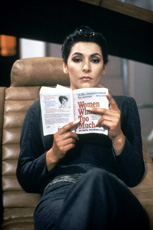 This book isn't simply a colorful episode guide, in fact it thankfully deviates from that somewhat restrictive format, instead opting to present the reader with wonderfully crafted vignettes of information and behind-the-scenes morsels accompanied by mostly unseen photographs. The label "photographs" doesn't really do justice to what we are presented with here… the authors have sourced a huge amount of fresh, candid imagery from the making of the show including original costume and makeup tests, original advertisements, design sketches and delightfully intimate photos taken as the episodes were rehearsed and filmed.
I level criticism at TNG:365 reluctantly, as this volume is perfect in so many ways, however it was somewhat disappointing to see a smattering of low-resolution DVD screenshots incorporated into the book. Obviously the authors couldn't have access to the remastered high-definition TNG prints, unless they had waited a further 3 years to publish the book, so the presence of screenshots is understandable from that perspective. However it does detract somewhat from the otherwise high-quality polish of the book.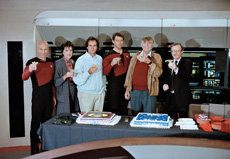 That minor issue aside, with all candor I must state that TNG:365 is – for me – a triumph of Star Trek non-fiction writing, and should be considered by all fans as an essential part of their Trek library. This book is the perfect companion to the newly released remastered blu-rays, and it's a joy to refer back to it after you've watched an episode. Want to know what the writers really thought of their work once they saw it played back? The sometimes damning indictments are laid bare for all to see here (I couldn't help but burst into laughter when reading Naren Shankar describing Season 6's "Suspicions" as "a misery… the whole thing was a clusterfuck"!)
Star Trek: The Next Generation 365 is available to buy now:

Amazon US
Amazon CA
Amazon UK
Amazon DE
Amazon FR