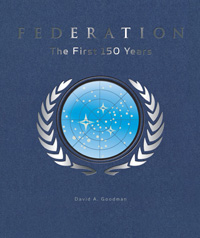 Star Trek fans have long since theorized and conjectured about the founding of the United Federation of Planets – the underlying political and social democratic government which underpins the Star Trek universe. Now author David Goodman along with a host of designers and illustrators have put together the ultimate reference source covering this epic time in Star Trek history. Star Trek Federation: The First 150 Years will be released worldwide on December 4 this year from publishers becker&mayer and 47North, and it's a release you do NOT want to miss!
As the title of this luxurious tome suggests, the book will guide fans through the first 150 years of the Federation's history, taking an in-universe approach and mixing canonical events with new history never before revealed on-screen. Goodman takes fans on a journey right from the beginning… first contact with the Vulcans in 2063 through the first voyages of Starfleet with the Enterprise NX-01 and the previously untold story of the Romulan War. This beautifully segues into the founding of the Federation in 2160 and the events of the first 150 years, including everything from conflict with the Klingon Empire to the Constitution-Class Project and the destruction of the Tribble Homeworld!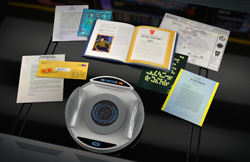 The book is packed full of lovingly-designed unique elements with everything from ship blueprints to personal letters from James T. Kirk and a hand-written draft of Zefram Cochrane's speech for the opening of the Warp 5 complex!
But why stop there? The designers of the book have gone all out to produce a luxurious housing for the definitive Federation history. The book sits proudly on a stunningly designed display pedestal featuring interactive electronic lights and a profound audio narrative delivered by none other than Star Trek's George Takei (Hikaru Sulu).
TrekCore will be bringing you a whole host of exclusive coverage on Star Trek Federation: The First 150 Years including some brand new exclusive preview images from the book as well as interviews with the book's editor, designer and finally the author himself – David Goodman.
The book is both luxurious and groundbreaking in every way, so don't hesitate to preorder it now from Amazon!
| | |
| --- | --- |
| | Pre-order Star Trek Federation: The First 150 Years |