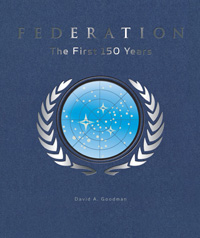 David Goodman's historical Trek masterpiece Star Trek Federation: The First 150 Years is set to hit shelves in under three weeks. The book is packed full of information chronicling the pivotal era leading up to Humankind's First Contact with Vulcan in 2063, the Romulan War in 2156, the creation of the Federation in 2161, and the first 150 years of the intergalactic democracy up until the year 2311.
To celebrate the launch, TrekCore caught up with the book's Editor, Dana Youlin and the Designer, Rosanna Brockley.
Interviewed by Adam Walker for TrekCore.com

TrekCore: What are you both responsible for in this project?
Dana Youlin: I am the editor, so I oversaw the editorial production portion of the book. So once the manuscript was edited and it went into layout, I made sure that everything went as planned, and I was also the main contact for CBS Consumer Products.
Rosanna Brockley: I'm one of the designers who worked on the book. The design team designed the cover and the interior spreads and we art-directed with CBS and the artists and also art-directed the illustrations. A big chunk of the work was also designing the documents that appeared throughout the book, and also designing all of the removable documents and overseeing the illustration side as well. Dana and I also worked with a company to create the trailer for the book.
TrekCore: That was quite unique for a Star Trek title. What led you to design a trailer for Federation?
Dana Youlin: There's sort of a growing trend in publishing to produce book trailers. This was actually the third type of project that we've done in this line, the other two were Star Wars properties – 'The Book of Sith' and 'The Jedi Path' and we did trailers for those as well. It's part of our programme for these types of deluxe books
TrekCore: Why did you decide to produce a Star Trek book – was it a natural follow-on for you from Star Wars?
Dana Youlin: Actually we've worked with CBS for a number of years. This is not our first Star Trek book – this is our first deluxe Star Trek book though. We've got a great working relationship with them and they actually came to us. John Van Citters who is Vice-President of CBS Consumer Products – and he's the creative force and the continuity person over there – he saw our deluxe edition of a book called 1776 by David McCullough. We had done a deluxe version that had removable documents and came in a clamshell case, and John loved that book. He wanted to see something similar for Star Trek. That's kind of where it was born, and then we started making concepts for it.
TrekCore: David Goodman has mentioned you were quite adamant about sourcing a TV Writer for this book, why was that?
Dana Youlin: Well typically with our Star Trek books that we've done in the past, we have kind of pop-culture writers, but we knew this book would require someone who could speak in many different voices so we could create these documents which are coming from different parts of Star Trek's history over the 250 years. We needed somebody who could embody all of those voices well, so a TV writer is actually a pretty natural fit when you think about it.
TrekCore: The illustrations that have been used in this book are of a very different style to those that we've seen in other Star Trek books in the past. Did you purposefully stray from the illustrators who were familiar to fans to get a different look?
Rosanna Brockley: Yes, from the beginning they wanted to have a very different look for the book overall. So the idea was that when the team got the outline, we looked for artists who could convey the kind of emotion and dynamic action that we wanted for this book. We collected samples from many artists and then reviewed them with CBS to get their input, and then we collected these artists together. While Cat [Staggs] and Mark [McHaley] aren't necessarily known for Star Trek work, they're both actually Next Generation fans. And Joe Corroney has done quite a bit of Star Trek work including graphic novels. Jeff Carlisle – I think that he was probably the biggest fan of Star Trek. So much so that when we would ask him to produce something, he would go well above and beyond what we asked for. He illustrated the removable blueprints of the Enterprise and he actually created an entire dialogue on paper between the designers and the engineers, with so much backstory. I've kept all his original files – so some day…!
TrekCore: How much were you aware of the huge backstory that comes with Star Trek? I know a lot of authors and publishers view it sometimes as a hindrance because of the volume of information. Were you aware of that before you started and how did you tackle it?
Dana Youlin: I think for both of us this was a crash course. I had watched some Star Trek – I had grown up watching Next Generation – but the backstory was not something I was fully aware of. David [Goodman] was really helpful, he created sort of a cheat-sheet list for us, but whilst I was working on this I watched a lot of Star Trek. I had to get my mind around the pivotal episodes and the things that were coming in play with our narrative. So there was a lot of backstory, but David [Goodman] and John Van Citters are both encyclopaedic, they know so much about Star Trek and have such a great grasp of the canon that they were hugely cool in getting us up to speed and always had their eyes on continuity. That really made it possible.
Rosanna Brockley: Some of the books that I've done before – we call them 'in-world' titles – the thing about becker&mayer is that we really immerse ourselves into the world, and gain a lot more knowledge than we ever thought we'd need. Shortly after this I went on to work on two more Star Trek titles, and I never thought I'd know as much about Klingons as I do now!
TrekCore: The book is titled 'The First 150 Years' although it actually covers 250 years as you mentioned. Why was the decision made to stop after 150 and would you consider a sequel at some stage?
Dana Youlin: Well that's not only up to me, but I think that would be wonderful to do a follow-up. I think the era that it covers was selected because it's just ripe for storytelling. It covers a time period that we don't know a tonne about beforehand, so there was a lot of filling in of the canon. In terms of cutting it off after 150 years – the book that we envisioned in terms of the content and how detailed we wanted to make it, we had to draw the line somewhere. That's why we ended up at that 150 year mark, and it sort of leave us on the cusp of a very interesting time within the Star Trek canon, just 50 years before Next Generation.
TrekCore: Could you give us a brief idea of the workflow of the project, from conception to publication?
Dana Youlin: It was very fast! It was a very ambitious project, and pretty intense on our end. So it was conceived probably a little bit more than a year ago, David had roughly three months to write which was very intense considering the amount of research he had to do and all the supplemental documents. The documents were a bear of a task that ended up being almost as much work as writing the narrative. Once the book went into design and the really intensive illustration schedule, which was probably about another four months – it was really very fast. The last six months or so of this project have actually just been spent in manufacturing. We were living and breathing Star Trek Federation for quite a while here, as was David [Goodman], as were our friends at CBS. Everyone was so involved here.
TrekCore: You talk about the manufacturing stage there. What led to the inspiration behind the unique pedestal?
Rosanna Brockley: The pedestal fits really well into the concept of the book as an in-world artefact. Where we started in terms of the idea was that this would be a book that was commissioned by the Federation on the anniversary – 150 years after founding. They wanted a historical document. Our idea was that the pedestal would be a display that you would see on Memory Alpha. We wanted it to take on the feel of that environment.
TrekCore: How did you persuade George Takei to do the voiceover?
Rosanna Brockley: That was all wheeling and dealing with our friends at CBS! We actually started with a slightly different design. Initially we had conceived of a design which locked the book, and it opened when a keypad was activated, but there were problems with the mechanics of that. We ended up with a pretty large direction shift after we were well into the project. It was really amazing that George was able to come on and record it for us. I think it ended up twenty times better than our original idea. We were very lucky.
TrekCore: The cover of the book is beautifully designed with the metallic embossing and raised symbols. Tell us a bit about how you came up with this design.
Rosanna Brockley: The design team – Gabe Stromberg actually designed the cover – the idea was to have the Federation logo on there. What we did was have a production team source all of the different materials for the cover, and they came up with this blue metallic look. We also wanted it to look very futuristic. There were a lot of experiments going back to make the medallion, and make it pop. Initially we were just going to go with the normal logo here, but we really wanted to make it pop – make it a medallion. That's how we arrived at it. You'll notice that the words Star Trek are not on the book, that was intentional so it really does feel like it's an in-world object.
TrekCore: How did you marry up the documentation inserts with the narrative of the book itself?
Dana Youlin: I can't take any credit for that. That was all David [Goodman]. He wrote the narrative first and then went back and created documents to weave through that story. Some of them directly relate to the text. Some of them were other things that were happening at the same time, but they're being described in the text. It was really things in Federation history which were really pivotal, but also things that hadn't been explored. And it really created that really rich story you see.
TrekCore: If you could sum up the book – the whole package – and tell fans what they can expect, how would you describe it?
Dana Youlin: I think I'd start off by saying it's a Star Trek book like no other Star Trek book. It's rich in history with beautiful illustrations in a really fun and exciting luxurious package.
Star Trek Federation: The First 150 Years is published by 47NORTH and produced by becker&mayer. It is officially licensed by CBS Consumer Products. The book will go on sale: December 4, 2012.
| | |
| --- | --- |
| | Order Star Trek Federation: The First 150 Years |