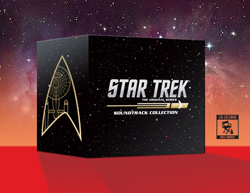 Three years ago Star Trek fans were delighted when Film Score Monthly released the full expanded soundtrack from Star Trek II: The Wrath of Khan. Since then, there has been a whole renaissance of new Star Trek soundtrack releases from a number of different specialist record labels.
One of the leading forces in releasing these much sought-after soundtracks is La-La Land Records who this year put out the critically acclaimed limited edition 3CD release of the soundtrack from Star Trek: The Motion Picture. Hot on the heels of that release, La-La Land astounded fans with news that a complete soundtrack collection of the full archive of music from Star Trek: The Original Series would be released in a deluxe 15-CD box set in December 2012.
Our friends at La-La Land have provided TrekCore with some special high-resolution images of the boxset and its contents. We'll also be working closely with La-La Land to bring you a series of exclusive features on the collection to tide you over until release date on December 4th 2012. Scroll to the bottom of the article for some exclusive samples from the set!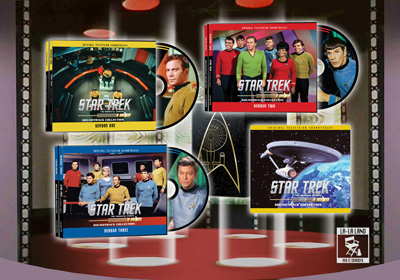 The set is broken down into the three separate seasons of Star Trek: The Original Series.
Each season gets its own special disc casing.
The 15-CD boxset will contain all episode scores as heard in all three original seasons of Star Trek. This special collection has been newly remastered from studio elements and features hours of material previously unreleased in any format. The set is limited to 6,000 units and will be available exclusively from www.lalalandrecords.com at 1pm (PST). The retail price will be $224.98.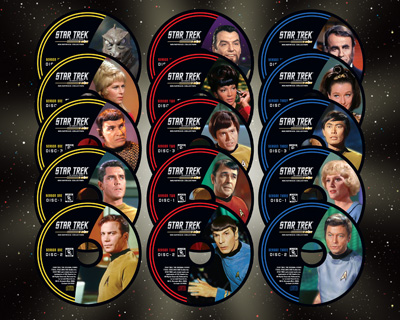 There are five discs per season, each one embellished with wonderful cover-art featuring a character from the series. Seasons are color-coded for easy identification.
Original series composers Alexander Courage, George Duning, Jerry Fielding, Gerald Fried, Sol Kaplan, Samuel Matlovsky, Joseph Mullendore and Fred Steiner are all represented in this deluxe collection, their historic work meticulously assembled, restored and remastered. Four CD booklets featuring over 100 pages with in-depth liner notes from film music writer and Star Trek historian Jeff Bond, complement this set, which is housed in a hardcover slipcase.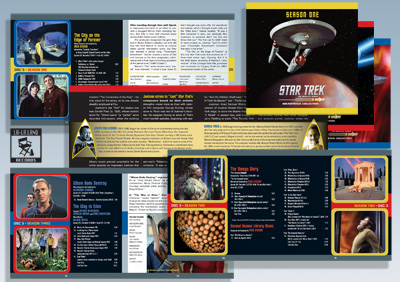 The accompanying booklets contain a wealth of information – everything from Jeff Bond's in-depth liner notes to original composer biographies and lists of musicians, all sumptuously illustrated with classic Star Trek imagery.
This release marks the kind of authoritative collection of original Trek series music that fans have desired for decades. Album producer Lukas Kendall states:
For 45 years, those like me who love this music could only dream about having it all. This is the major, historical piece of sci-fi music, television music and pop culture music that we have always wanted to release in a definitive form for the collector.
It's also particularly note-worthy that the set will contain a whole chunk of music which has never been heard, as mentioned by La-La Land President MV Gerhard:
A majority of the music featured in this set has never been released. Of that unreleased music, there is a fairly large percentage that no one has ever heard because it was written and recorded for the show, but never featured in the episodes.
TrekCore is able to bring you some exclusive sample tracks from the release for your listening pleasure! You can stream the tracks directly or save them to your computer by right clicking on the links.
Salty Cat – Dressing Down (from "The Man Trap", Alexander Courage)
Meet Andrea – Android Kirk (from "What Are Little Girls Made Of?", Fred Steiner)
Mace Fight (from "Catspaw", Gerald Fried)
It's Her – Loveliness (from "Metamorphosis", George Duning)
Battle Music (from "Elaan of Troyius", Fred Steiner)
Stay tuned to TrekCore for more exclusive news and previews of the set over the coming weeks. Be sure to guarantee your order by ordering from www.lalalandrecords.com at 1pm (PST).