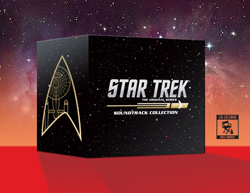 With just a few days to go until the official release of the unprecedented Star Trek: The Original Series Complete Soundtrack Collection from La-La Land Records, we're continuing our look at the boutique set's production and content.
Last time we chatted with Producer Neil Bulk who gave us a great insight into how the set was first conceived and the arduous process of sourcing every single note of classic Trek music.
Our second interview is with Producer Lukas Kendall. Lukas is a familiar name to Star Trek fans through his soundtrack label and magazine Film Score Monthly. We caught up with Lukas last week to discuss his role on the set, what the set means to him and Star Trek soundtracks as a whole. We've also got FIVE new exclusive sample tracks from the set chosen to accompany the interview. Scroll to the bottom of the interview to listen to them!

Lukas Kendall: Star Trek TOS Soundtrack Interview
Interviewed by Adam Walker for TrekCore.com

TrekCore: Hi Lukas! Tell us a bit about how you're involved with this huge Star Trek: The Original Series soundtrack project and what you were responsible for.
Lukas Kendall: [pause] Do you remember in Pulp Fiction where the guy comes over to clean the bodies—the Wolf, Harvey Keitel? Not quite like that! [Laughter] I've been doing this for 15 years, I've put out hundreds of soundtrack albums mostly through my company, Film Score Monthly, which I've decided to close down to make a career change. This has been something I've always wanted to do the most, and finally the relationships were in place between CBS, La-La Land and GNP/Crescendo so we could produce this box set. With Star Trek [The Original Series soundtrack], there were so many parties involved and everyone was extra passionate, involved and interested. I was the person hired by La-La Land Records to do the production, so in that sense I had a lot of responsibility but I don't want to make it sound like it was all my doing because it was a collaborative effort and it's really La-La Land who have financed this and decided what they wanted.
Music licensing is a lot more complicated than a lot of other licensing that Star Trek licensees deal with. When you're releasing music, not only do you have to license from CBS, you have to pay royalties to the composers who wrote the music, the musicians who performed the music, the vocalists who sang the music, and for Star Trek, there are existing exclusive rights in place with other labels, specifically GNP/Crescendo. All of these details had to be sorted out in a way that was fair to everyone by someone who knew the subtleties of dealing with licensing. When I joked that I was the Wolf in Pulp Fiction, I happened to be the person who had these relationships, who knew the systems that the different entities liked to use, and could come up with fair amounts while being trusted as a liaison to make sure that their interests were represented.
TrekCore: You did the fantastic Ron Jones box set through Film Score Monthly and I recall you were limited to using just five minutes of cues from "The Best of Both Worlds." What changed between that circumstance with GNP/Crescendo and this time around with Star Trek: The Original Series?
Lukas Kendall: This is a little bit of a delicate topic. What changed was I approached GNP/Crescendo wearing a different hat. I approached them in a very informal activity that I've had helping Paramount Pictures with some of their soundtrack albums and asking if GNP/Crescendo would like to do the collectors' editions that we've subsequently released of First Contact and Generations. It was through doing that that I got to work with Neil Norman and his wife Melanie Clarkson Norman, and I like them very much and I hope I did a good job for them. I was in a better position to then ask for certain rights that they'd been understandably reluctant to negotiate away. It was just a matter of furthering the relationships and treating everyone fairly and coming up with a way to make the deals work.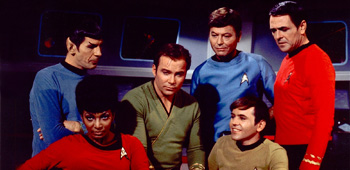 The Star Trek Original Series Soundtrack project involved a lot of behind-the-scenes delicate licensing negotiations which Lukas was able to lend his expertise in the industry to.
TrekCore: When we look at the Original Series set, it's clear that the pressure you must have been under to get every single piece of music right and not to use a wrong take must have been immense given how particular Star Trek fans are. How did you cope with it?
Lukas Kendall: I appreciate that question. My answer may be a little counterintuitive: I'm always that way! Having done hundreds of these albums, it doesn't make a difference to me whether it's James Bond or Superman or Star Trek. I always approach these projects with a very obsessive personality and the thing that made Star Trek more difficult was not the pressure to get things correct—because I always feel that pressure—it was the cacophony of having so many interested people who were also paying attention during the production process and wanted to know what was going on in order to put in their two cents. I don't want to be dismissive towards my colleagues, but it just became a more complicated working environment compared to a soundtrack album of a film that no one has ever heard of where I could indulge in my obsessive behavior in anonymity.
I think can be a little more cavalier with that answer than I should be because the person who really did what you asked, as far as ensuring the correct takes were used, was Neil Bulk, whom you've already interviewed. There are three people listed as the producers of the box set and that's me, Neil and Jeff Bond, who wrote the liner notes. I am very proud to be listed alongside them because all three of us are lifelong Star Trek fans who never in our wildest dreams would have imagined this opportunity. It would have been physically impossible to produce this box set in the time-frame and with the quality that we did without the three of us collaborating. I am indebted to Neil and Jeff and our other colleagues for their skills and talents which are much more developed than mine in their respective fields.
TrekCore: A lot of the music that was used early in Star Trek was later re-used with subtle differences in later seasons. Where did you draw the line in terms of putting everything on the collection? Were there occasions where tracks weren't different enough to warrant a second inclusion?
Lukas Kendall: No, we included everything. We included every original recording that we had that was considered a master take. When they're recording any piece of music they'll do Take #1, Take #2, Take #3 and so on until they get it right. In rare cases they may use an earlier take because they could not improve on that performance. We made a point to include every recorded master take, or "intercut" combination thereof, that was considered by the production to be the definitive recording of that composition. There were instances at the beginning of Seasons 2 and 3 where they had a recording session where they did new performances of earlier compositions which were then expressly used for library purposes. We made a point to include all of those re-recordings of the earlier music, but it was very easily identifiable what was original or not.
TrekCore: Imagine you're a fan who's listening to this set for the first time. What would stand out to you as the biggest surprises in the collection?
Lukas Kendall: I would be most relieved to hear how good it all sounds! The quality is terrific. We even have soundtracks in stereo which is very rare for television music of that period. I think the excitement of hearing the box set for the first time is the same excitement that we had when we began the project. We were anxious about finding every recording, and I'm happy to report that everything is there and it all sounds great. If people have any apprehension that maybe we've overlooked something, I'm quite sure that's unfounded.
TrekCore: We touched on licensing a little earlier. Was it difficult to get the copyrights sorted for publishing material such as "The Star Spangled Banner" in "The Omega Glory" and some of the music from "The City on the Edge of Forever"?
Lukas Kendall: No, and that has to do with some of the subtleties of music licensing. "The Star Spangled Banner" is public domain as the National Anthem in the United States, it was written so long ago that you no longer need a license to use it. The song "Goodnight Sweetheart" in "The City on the Edge of Forever" is under copyright, but whereas you would need a synchronization license if you were going to use that song in a new television show, if you are just putting it on a record album it's called a "mechanical license" and a "compulsory license." To make a long story short, you need to pay for it, but you don't necessarily need permission, although we are getting permission and we're doing everything on the up-and-up.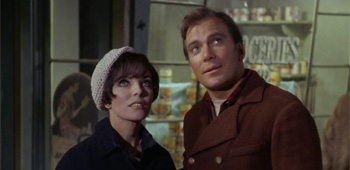 Lukas Kendall explains the different types of licenses required for including music such as "Goodnight Sweetheart" from the iconic Star Trek episode "The City on the Edge of Forever"
TrekCore: You started Film Score Monthly which pretty much kicked off these expanded editions of Star Trek soundtracks that have been so successful. Did you ever expect when you first started work on The Wrath of Khan [Expanded Edition Soundtrack] that you would be reaching a day when you worked on the complete archive music of The Original Series?
Lukas Kendall: The answer is yes. It was always my plan to build and develop relationships so that I could do most—if not all—of the Star Trek music that I'm personally interested in. Going back 15 years, I'll happily take credit for the work I've done, but I did it simultaneously with at least half a dozen other producers. I get a lot of notice I think because I've been visible with the website I have and the message board because I've always communicated very directly to our customers, but I would be mortified if it sounded like I was trying to take credit for an entire industry. I was probably one of 12 or more people who very passionately worked on this since the 1990s.
TrekCore: What are the chances of Varèse Sarabande relasing an expanded edition of Star Trek Nemesis?
Lukas Kendall: I don't know, honestly. I know the producer there—Bob Townson—is devoted to Jerry Goldsmith's music. I know he's also an excellent producer, he's certainly someone who's done far more work in the field than I have and whose career in the field predates mine by several years. I would be very optimistic that he's aware of the interest in the title. Whether he does it or not is not for me to say.
TrekCore: What about GNP/Crescendo finishing their last Star Trek title, Insurrection?
Lukas Kendall: Well, I have to be a little cheeky and neither confirm nor deny any such plans, because I have to be aware of GNP/Crescendo's prerogative to either announce or not announce what they wish to.
TrekCore: Last time with Neil Bulk, we chatted briefly about La-La Land's upcoming Deep Space Nine set. Did you have any involvement with that?
Lukas Kendall: Yes. I'm very happy with these releases, I consulted on them. The producer who has been most involved with that (and La-La Land's Next Generation set) is Ford Thaxton. He knows the scores by Dennis McCarthy and Jay Chattaway much better than I do and I trust his judgment when it comes to selecting the episodes and cues to put on the album. With modern day Star Trek series, there's a much larger quantity of music that was recorded because they did an original score for each and every episode. I tried with the Ron Jones box set to present every single note, but it became a very large set that was probably not cost effective, it was just something I personally wanted to do because I was passionate about Ron's music. In the case of the newer Star Trek series and the composers who did many more episodes than Ron did, by necessity we have to excerpt their work. I trust Ford to make the best selections for the collections.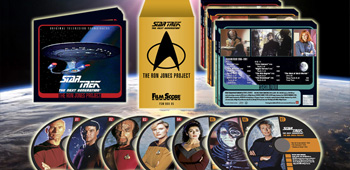 One of Lukas' previous flagship collections was the "Ron Jones Project" put out on his label Film Score Monthly. He explains that such projects for other modern-day Trek composers such as Jay Chattaway or Dennis McCarthy would be unfeasible due to the volume of work.
TrekCore: If you could sum up what fans are going to get in the Original Series box set, how would you describe it?
Lukas Kendall: Well, I don't presume that every Star Trek fan is also a Star Trek music fan. Something we wrote in the liner notes is that it's very hard to discuss music. We can't take a picture of it—we can take a picture of the written notes on the page or the composers, but the music itself exists in air and sound and time. You know, the famous line of "Writing about music is like dancing about architecture" is true. Music is, by definition, something of an abstract art form. I think the way in which people react to it can be a little abstract as well, it can be a little more emotional. I always hope that when I finally get the reviews of a set that I've helped create… I hope people will be very happy. I think it will be a lovely collectible, and I think that there will be a certain 'binge' attitude which I experienced personally as far as wanting to listen and devour all of the music. To finally—after so many decades after hearing the tracks behind sound effects and dialogue—to hear it un-obscured and listen to all the lovely details in the music, to have this experience for the first time will be a special moment.
It's an interesting journey that you go through as a collector and a fan, to have this material at your fingertips and to re-experience your affections for Star Trek and the emotions that you had from enjoying it for so many years. For example, I have the CD-ROM collection of the Star Trek comic books which came out in 2008. It's a very interesting experience opening up PDFs of those comic books that I purchased in a drugstore in 1985. The only thing that I wish the PDFs had is the smell of the newsprint. Star Trek is sci-fi but it's also sui generis, that's Latin for unique unto itself. It really is a one-of-a-kind thing that we've grown up with, and when you listen to the music it's a very evocative experience, a very emotional experience. You hear little phrases and sounds and it really brings you back—not only to the stories of the Star Trek episodes—but to the experience that you had watching them either as a child, or a teenager or in every corner of your life. It's something to think about, and I hope that people can appreciate the recordings on the box set in that context, as much as I am eager for them to experience it simply as a very cool collectible that I hope they acquire.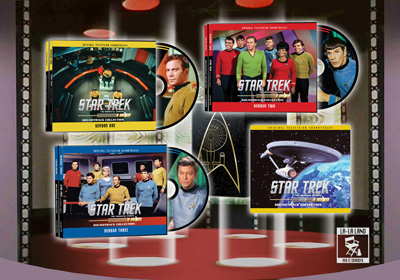 The Star Trek: TOS Complete Soundtrack set is broken down into the three separate seasons of Star Trek: The Original Series. Each season gets its own special disc casing.
The 15-CD boxset will contain all episode scores as heard in all three original seasons of Star Trek. This special collection has been newly remastered from studio elements and features hours of material previously unreleased in any format. The set is limited to 6,000 units and will be available exclusively from www.lalalandrecords.com at 1pm (PST). The retail price will be $224.98.
To complement our interview with Lukas Kendall, TrekCore is able to bring you some more exclusive sample tracks from the release for your listening pleasure! You can stream the tracks directly or save them to your computer by right clicking on the links.
Zap the Spaceship (from "Charlie X", Fred Steiner)
I Know That Voice (from "The Conscience of the King", Joseph Mullendore)
Kirk's Philosophy ("Return to Tomorrow", George Duning)
Chekov Gets Killed (from "Spectre of the Gun", Jerry Fielding)
Slap Unhappy (from "Plato's Stepchildren", Alexander Courage)
Stay tuned to TrekCore for more exciting news and coverage on the Star Trek: The Original Series Complete Soundtrack Collection. Be sure to guarantee your order by ordering from www.lalalandrecords.com at 1pm (PST) on December 4th 2012.