La-La Land Records aren't ones for slowing down. The groundbreaking release of Star Trek: The Original Series – The Complete Soundtrack has barely been out two months and the label are already preparing to delight Trekkie music fans once again with the release of a 4 Disc Star Trek: Deep Space Nine Soundtrack Collection. The set is scheduled for release on February 12 and should retail for $49.98. Our friends over at La-La Land sent us this first look at the cover art for the upcoming release: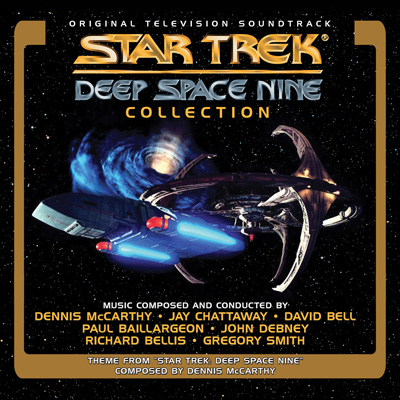 Modern day Star Trek music has always been a tricky beast for soundtrack releases on account of the sheer volume of music out there. When we spoke to Lukas Kendall in December, he pointed to this as a hurdle for "complete" releases:
With modern day Star Trek series, there's a much larger quantity of music that was recorded because they did an original score for each and every episode. In the case of the newer Star Trek series and the composers who did many more episodes than Ron [Jones] did, by necessity we have to excerpt their work.
To that end, this collection brings together some of the finest cues from a whole range of different episodes taken from all seven seasons of Star Trek: Deep Space Nine. Previous releases from DS9 have been limited to the original pilot soundtrack album (Music from "Emissary"), released by GNP Crescendo Records in 1993 and music from two episodes of Season 4, "The Visitor" inThe Best of Star Trek Volume 1 and "The Way of the Warrior" in The Best of Star Trek Volume 2, also from GNP Crescendo. This makes La-La Land's new set the largest collection of music from Deep Space Nine to date.
Similar to the Star Trek: The Next Generation Collection that the label put out last year, this set celebrates the different composers who worked on Deep Space Nine and is broadly divided into categories based on the composers:
Disc One features music by Dennis McCarthy including cues from episodes such as "Duet", "The Circle", "The Die is Cast", "Far Beyond the Stars" and many more.
Disc Two features music by Jay Chattaway with cues from episodes including "The Search", "Call to Arms", "The Changing Face of Evil" and many more.
Disc Three features the huge array of guest composers who worked on Deep Space Nine, titled "New Recruits" and showcases the works of John Debney, Richard Bellis, David Bell, Gregory Smith and Paul Baillargeon.
Disc Four sports the intriguing title of "The Lost Album" and puts the spotlight on three episodes with a fuller selection of cues from these episodes. All will be revealed soon, but I will tell you that the first episode on the disc is "Our Man Bashir"!
As before, we're working with our friends at La-La Land to bring you some great coverage of this release including (hopefully) interviews with set producers Mark Banning and Ford A. Thaxton, sample tracks and full track listings. Stay tuned!
Star Trek: Deep Space Nine – The Collection is due for release on February 12, 2013 from La-La Land Records and will be priced at $49.98. The set can be ordered on release day at www.lalalandrecords.com