Last Friday we posted the first information on La-La Land Records' upcoming 4 Disc release of the Star Trek: Deep Space Nine Soundtrack Collection. The set is scheduled to ship on February 12 and should retail for $49.98. The record label has issued some more information today including the fact that the set will be limited to 3,000 units and orders will be taken from 1pm on February 12 through their website, www.lalalandrecords.com.
In the meantime, La-La Land have sent us this first look of the rear cover art with full information about which episodes will be featured: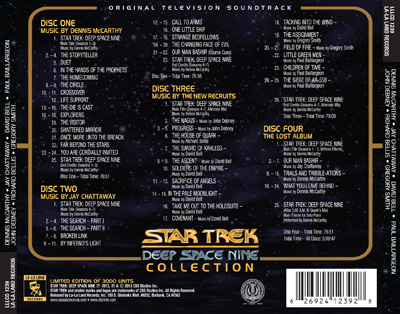 The set contains music excerpted from episodes of all seven seasons with Disc 4 presenting a special "Lost Album" with a more complete collection of music from the episodes "Our Man Bashir", "Trials and Tribble-ations" and "What You Leave Behind".
TrekCore is hoping to talk to some of the producers of the set soon, so stay tuned for more information!
Star Trek: Deep Space Nine – The Collection is due for release on February 12, 2013 from La-La Land Records and will be priced at $49.98. The set can be ordered on release day at 1pm over at www.lalalandrecords.com