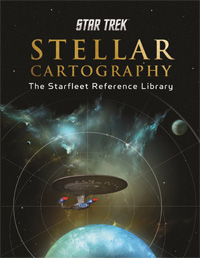 Larry Nemecek's name is synonymous with quality when it comes to non-fiction Star Trek books, long-since celebrated for his iconic Star Trek: The Next Generation Companion. In a new exciting project, Nemecek is once again turning to the stars and putting his cartography skills to the test with a wonderful deluxe library of lovingly created Star Trek maps. Nemecek is certainly no stranger to the world of Star Trek maps, having previously contributed to Geoffrey Mandel's 2002 Star Trek Star Charts, a very popular book which was one of the first to map the Star Trek universe in any great detail.
The special hardcover book comes from the same publishers who released Star Trek Federation: The First 150 Years last year, 47North.
Star Trek Stellar Cartography: The Starfleet Reference Library comes with a total of ten 24" x 36" removable maps from various iconic Star Trek alien races. We have an initial description of the book from the publishers below:
The Starfleet Reference Library: Stellar Cartography collects together ten original, never-before-seen large-format maps of the Star Trek universe. Pulled from the cartography archives of Starfleet Academy, these beautifully reproduced maps provide a rare opportunity to view the expanse of Federation space (and beyond) through the multiple lenses of the Galaxy's key players.

The maps include an ancient Vulcan map, a Klingon Empire map from the pre-Organian Peace Treaty era (in the native Klingon), an official Romulan government map of the Empire, a native Cardassian Union map from the Bajor occupation, along with Federation maps from the modern era. Housed in a handsome clamshell case and paired with a fully-illustrated reference book providing detailed information on planets, systems, and topography, this exclusive collection showcases the Star Trek universe like never before.
Star Trek Stellar Cartography: The Starfleet Reference Library will be released by publishers 47North on December 3, 2013 and is now available to pre-order over at Amazon using the link below.
| | |
| --- | --- |
| | Pre-Order Star Trek Stellar Cartography Book |