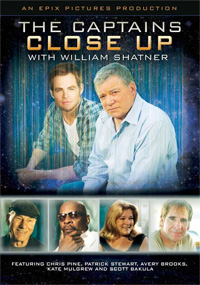 Following on his massively successful 2011 film The Captains, William Shatner recently featured in the 5-part documentary miniseries The Captains: Close Up which aired on the Epix premium cable channel. Each episode features an in-depth Shatnerian interview with one of the iconic actors behind the various Star Trek captains – Patrick Stewart, Avery Brooks, Kate Mulgrew, Scott Bakula and Chris Pine. The episodes also feature contributions from a number of other Star Trek cast and crew.
For those of you who were unable to catch it on Epix, the folks at eOne Entertainment are releasing the complete series of The Captains: Close Up on DVD this August 13th. At the moment we understand this title is just being released in the US, but we'll be sure to let you know if international distribution becomes a reality. In the meantime, we've got the full product description from eOne:
The Captains Close Up is a five-episode miniseries, directed by and featuring William Shatner. Each episode focuses on one of the Captains of Star Trek: Sir Patrick Stewart, Scott Bakula, Kate Mulgrew, Avery Brooks and of course, William Shatner, himself. Chris Pine, the newest Enterprise Captain, turns the tables to interview the original Captain of the Enterprise, William Shatner, and the two "Captain James T. Kirks" compare notes about love, life and family.

William Shatner speaks with each of the Captains of the Starship USS Enterprise for an up close interview of their life after Star Trek. Each half-hour is an intimate portrayal of these talented actors and includes interviews from the biggest names in the world of Star Trek including; Jonathan Frakes, Walter Koenig, Michael Dorn, Rene Auberjonois, Rick Berman, Brannon Braga, Robert Beltran, Ron Moore, Terry Farrell, Nana Visitor and Ira Steven Behr, to name a few.
The single-disc release is priced at $19.98 SRP right now. Running approximately 150 minutes long, this show is presented with anamorphic widescreen video, English 5.1 Dolby Digital audio, and English subtitles. You can pre-order it right away from Amazon.com using the link below.
| | |
| --- | --- |
| | Pre-Order The Captains: Close Up on DVD |