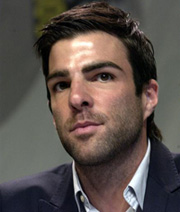 The dust from Star Trek Into Darkness may still settling but if Zachary Quinto's recent comments at the 2013 Galway Film Fleadh (via BuzzHub) are anything to go by, we may be getting a third J.J. Abrams Star Trek movie sooner than we thought.
When asked directly about his role as Spock in J.J. Abrams' Star Trek films, Quinto told the audience:
Star Trek 3 should be filming, I suppose, next year. It's going to be made a lot quicker than the last one. That's the plan, although nothing is confirmed yet.
At another point he's also said to have told the audience that J.J. Abrams was planning on returning to direct the third installment.
Cryptic hints indeed. What are your thoughts on such a quick turnaround for the third Abrams movie and the possibility of Abrams returning to direct? Paramount is undoubtedly over the moon with the financial success of Into Darkness this year so it seems that – for now at least – the franchise is very much under lock-down at Camp Abrams.
Star Trek Into Darkness is coming to Blu-ray and DVD this September. Check out our full coverage with listings of all the available options in your country.