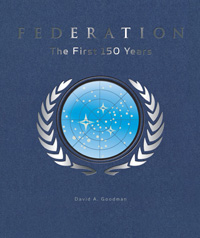 Publishers becker&mayer and 47NORTH have sent TrekCore some exclusive preview images from David Goodman's highly anticipated upcoming book, Star Trek Federation: The First 150 Years. The book is packed full of information chronicling the pivotal era leading up to Humankind's First Contact with Vulcan in 2063, the Romulan War in 2156, the creation of the Federation in 2161, and the first 150 years of the intergalactic democracy up until the year 2311.
The book itself is sumptuously illustrated with artistic illustrations depicting some of the key events described. In addition, there are over fifty excerpts from key Federation documents and correspondence, Starfleet records and intergalactic intelligence.
The first of our exclusive images (below left) is the Captain's Log from Captain Bryce Shumar of the S.S. Intrepid recorded on October 10, 2156 when the ship was ambushed by a Romulan fleet. The second image (below right) is a transcription from the ancient Vulcan text Vulcana's Betrayal.
The final exclusive image we're showing today is a painting of Lieutenant Commander Matthew Decker of the Patton. He would eventually rise to the rank of Commodore before his death in 2267.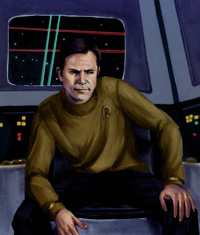 Be sure to check back soon as we'll be showcasing interviews with the editor, designer and author of Star Trek Federation! In the meantime – lock in your pre-order now, this is a must for any Star Trek fan's collection and will take pride of place.
Star Trek Federation: The First 150 Years is published by 47NORTH and produced by becker&mayer. It is officially licensed by CBS Consumer Products. The book will go on sale: December 4, 2012.
| | |
| --- | --- |
| | Order Star Trek Federation: The First 150 Years |