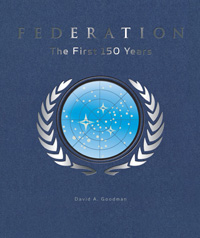 David Goodman's beautifully designed history of the United Federation of Planets is set to hit shelves in a little under three weeks (see our previous preview report). Star Trek Federation: The First 150 Years is an unprecedented illustrated volume chronicling the pivotal era leading up to Humankind's First Contact with Vulcan in 2063, the Romulan War in 2156, the creation of the Federation in 2161, and the first 150 years of the intergalactic democracy up until the year 2311.
It's sometimes hard to describe such an intricate book as Federation: The First 150 Years, so we've got hold of a wonderful video that publishers becker&mayer and 47North put together to show off the contents of the book along with the unique pedestal and historical documents that accompany it.
Be sure to watch the trailer in 720p HD to get a full appreciation of the craftsmanship that has gone into it!
Visit TrekCore again later today as we're going to be showing off some exclusive preview images from the book itself.
The book is both luxurious and groundbreaking in every way, so don't hesitate to preorder it now from Amazon!
| | |
| --- | --- |
| | Pre-order Star Trek Federation: The First 150 Years |
Star Trek Federation: The First 150 Years is published by 47NORTH and produced by becker&mayer. It is officially licensed by CBS Consumer Products. The book will go on sale: December 4, 2012.