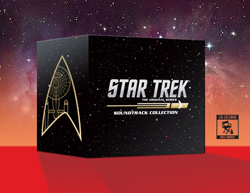 We're now less than 24 hours away from the official release of the Soundtrack of the Year! Star Trek: The Original Series: The Complete Soundtrack Collection from La-La Land Records starts shipping tomorrow (December 4th) and excitement at TrekCore HQ is at fever pitch!
We've been profiling the talented producers involved with this project in some special exclusive interviews. So far the spotlight has been on Neil Bulk and Lukas Kendall who both shared their insights into this gargantuan project.
Our third and final producer interview is with Star Trek musicologist Jeff Bond. Jeff is another familiar name to Star Trek music fans, having lent his considerable writing talents to numerous collections of liner notes in previous releases as well as his ever-popular book The Music of Star Trek. We caught up with Jeff a few days ago to discuss his work on the set, the huge task of researching the music for Star Trek and what we can expect in the liner notes. We've also got FIVE new exclusive sample tracks from the set chosen to accompany the interview. Scroll to the bottom of the interview to listen to them!

Jeff Bond: Star Trek TOS Soundtrack Interview
Interviewed by Adam Walker for TrekCore.com

TrekCore: Great to talk to you, Jeff. Can you start off by telling everyone how you were involved in the Star Trek: The Original Series Soundtrack project and what you were responsible for?
Jeff Bond: Well, I have worked for Lukas Kendall – who produced the set – for many years. He actually brought me out to California and got me started in the weird job of writing liner notes for CDs, and that got me eventually into editing magazines and a lot of other writing jobs. One of the first things that I did when I came out here was write a book about Star Trek music. That book came out in about 1998, but I continued to work for Lukas and in the past few years he began working on releases of several of the Star Trek movie scores which I did the liner notes for.
Doing the Original Series music was always something that everyone I knew involved in this business wanted to do. There were a number of problems with doing it but I remember five or six years ago having a discussion with Michael Gerhard of La-La Land Records and him saying that he was planning on doing the set. I then asked him about every month afterwards for the past five or six years when we were going to do it! It always seemed like the logistics of doing it were almost impossible. Looking back on it, I don't think I even realized how ambitious the set was going to be because I had always just wanted CDs of the scores that were written. What eventually wound up happening [with this set] is that every note of music of the series was done which I don't think would have ever been done with a normal series of CD releases. I don't think all the library music and the songs – the additional ingredients that went into the set – would have ever been put out in a normal release of multiple CDs. I kept working with Lukas over the past decade and when he got involved with helping Mike Gerhard's label get this project going I was fortunately able to work on the liner notes for it. It's been a long road!
TrekCore: What do you think it is about the music of the original Star Trek that still puts it in so much demand today?
Jeff Bond: There are a number of things. Part of it is just the importance of the original show. It's basically the beginning of all Star Trek fandom and it created the entire Star Trek universe and it's been around for the longest time. For a long time in syndication, it ran every day on television and people like me watched the show over and over again. Subconsciously, watching it so many times you would get the music memorized. I actually made tapes of the show by holding a cassette-recorder microphone up to my television set because I wanted to hear the music cues. The show was done at a time when music in television was incredibly expressive and played a huge role in the story – it was very melodic with recognizable themes. Because a lot of the show's music was repeated, re-arranged and re-cut, you would hear that music over and over again and it was constantly being reinforced and memorized. Anyone who hears most of the music on these CDs is going to recognize most of it.
TrekCore: And that's incredible given that we're now 46 years after the show aired…
Jeff Bond: Yes! And I have to say it's been promulgated in other venues. I talked to Gerald Fried about this, he wrote music for about five episodes of the show. Some of his music is so distinctive that it's been used in other television series and movies.
TrekCore: Right! The "Amok Time" theme is iconic…
Jeff Bond: Exactly. And it's used in a humorous way sometimes because that fight music became like musical code for all the crazy stuntman fights that you had on Star Trek. Those are also a part of television production in the 60's and 70's. You would always have these elaborately choreographed fight scenes, and they all looked similar… that fight music became the code word for stuntmen fights. I remember watching Mystery Science Theater, a show where they ran old movies and a guy and two robots would sit and shout comments at the screen, and I think there's more than one episode where a bunch of characters get into a fight and they just use stuntmen, they all start humming that music as a joke. So it's sort of an in-joke, and so many people are familiar with that music. It works as a piece of pop-culture reference.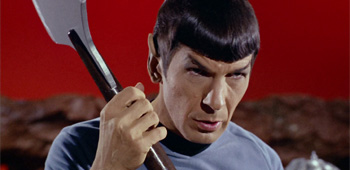 Jeff Bond describes how certain Star Trek music such as the fight theme from "Amok Time" remains iconic 46 years later and has appeared in countless TV shows and movies.
TrekCore: I understand that with this set there's a huge 100-page booklet full of your liner notes to accompany it. How did you go about researching that given that we've sadly only got one of the composers from the Original Series left with us?
Jeff Bond: Well we were very fortunate in a number of ways. First of all, I had been able to talk to Alexander Courage, Fred Steiner and Gerald Fried for the original book that I did and obviously I had access to those quotes. There have been a number of other interviews with those people and some of the other composers done in a few soundtrack magazines over the years. We were particularly fortunate in the fact that Fred Steiner had done a huge article on scoring the series for the Library of Congress, and he wrote it around 1982. He did interviews with all the composers that were living at that time, which was really everyone except for Jerry Fielding who had died by that time and Samuel Matlovsky who wrote the episode "I, Mudd" and I don't think that he was around or available to be interviewed by Fred.
Fred wrote this very lengthy article and used quotes from his interviews with all the composers. In his personal archive, he actually had all the original transcripts – the full length interviews that he had done that had a lot more comments than those we saw in the final article. We were really desperate to get that material – we knew that it existed and we thought it would be very important to have for the liner notes, and we had some contacts at – I think it was Brigham Young University. We had a contact there who we were trying to get to find the material, but the guy was unable to locate what we were looking for.
One of the amazing things that happened is that literally within a week of us figuring out that we weren't going to be able to get this material from the guy at the university, I was contacted by a woman named Jessica Getman who was a scholar at Ann Arbor University who was going to write her thesis on the original Star Trek music. She had contacted me because I'd done a couple of pieces for another website and I'd written a couple of articles about music. She had seen that and got in contact with me, and she'd just gone to Brigham Young University for her research and she had transcribed all of that material for herself. She was willing to forward me all of her research material in exchange for us giving her access to some of the material that we had. I was right at the point where I was going to start writing the notes, and I was going to do it based on the materials that I had, and this woman came along at exactly the right time with a mother lode of quote material, and it really forms the spine of the notes. [Jeff also wishes to acknowledge the help of Alan Andres in providing a lot of interview research for the notes]
We broke the booklet up into four booklets – an introduction to the whole set and then one book for each season. We've talked a lot about "100 pages", but I don't want people to get the impression that it's 100 pages of verbiage from me – there's a lot of artwork and lists of all the musicians. It's a lengthy set of notes and we managed to have quotes from most of the composers that are specific to a lot of the episodes. When Fred Steiner talked to these people, it was only about a decade after Star Trek went off the air, whereas when I talked to Fred and Alexander Courage and Gerald Fried for my book that was in 1998, 30 years after the series went off the air. Their memories were not always as good.
Alexander Courage often said in interviews that he didn't remember a thing about individual episodes, although he did remember the story of working out the theme for the show and the pilot. We made a really interesting discovery going through the original interview materials from 1980 – Alexander Courage always stated that he did no work on the Original Star Trek during the second season. There are pieces of music in the second season where it's unclear who would have done those if Alexander Courage didn't do them. There's a point in the interview with Fred Steiner where [Courage is] again recounting how he didn't work on the show during the second season and Fred prompts him about something and Courage all of a sudden looks through his notes and says "Oh wait, I forgot about that!" He recorded thirty minutes of library cues, some of the best music from the second season in addition to the main and end titles. These interviews were invaluable because it uncovered a lot of information we didn't know about.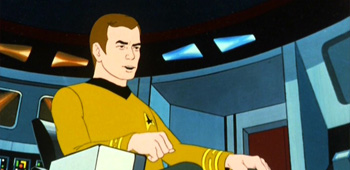 When talking about the music of Star Trek which remains to be released in soundtrack form, Jeff Bond laments that Ray Ellis' unique Star Trek: The Animated Series score is currently "lost", although he remains positive about Voyager and Enterprise releases for the future.
TrekCore: We've had a number of high-profile Star Trek music releases in recent years. As a Star Trek musicologist, what do you think is the next step in Star Trek soundtrack releases?
Jeff Bond: Well we're putting out another 4 CDs of music from Deep Space Nine. There's some great music there. There's also a lot of music in the later series – Voyager and Enterprise have some good scores, but the style of music in the spin-off shows from Next Generation forward is very different. They're far more subdued – you don't want to really diminish their value as music, but the goal of the producers on those shows – and the composers to an extent – was to create a very unified sound. Dennis McCarthy said something about seeing it more as a saga, so the music begins with the first episode of the show and ends with the last. There isn't a lot of huge highs and lows, you see more of an overall approach to the music. You can put that together – you can put it on 4 CDs and have a great listening experience. It's probably a little more challenging to say we're going to release all seven years of music from, say, Star Trek: Voyager. I don't think that is ever going to happen, although never say never. I've got a feeling that we will see collections of music – maybe from Voyager and Enterprise down the line.
The other thing that people would probably like to see – and I don't know if it's possible or practical – is music from The Animated Series. That was done only a few years after the Original Series by a great composer named Ray Ellis who did almost all of the Filmation cartoon music. He actually did the arrangement of the Spiderman song from the original 60s series and if you listen to that song, you can get a very strong idea of what his style was. He did these terrific big-band brassy arrangements – he did a lot of music for that Spiderman show that people remember and he did music for Star Trek that was in a similar style, but not as pop-oriented. The Animated Series music was very memorable, although they didn't do a lot of music for the show. My guess is there's probably thirty or forty minutes of music at the very most because they basically created more of a library for that show and tracked it through the episodes. The problem is that Filmation went through a number of ownerships and I'm not sure if CBS have access to the original music elements. According to Ray all of that stuff was destroyed long ago. There can always be dubs and copies floating around, but as far as I know there's nothing in great quality that you could put together for another release. That's something that people might like to see, but it's not certain if it could be done.
TrekCore: Jeff, can you sum up the Original Series set for us – how do you hope it will be viewed by fans when they get it through their mailbox for the first time?
Jeff Bond: Well it evokes the most powerful memories of the series. It's the only television music I can think of where if you hear a little cue you're reminded of specific lines of dialogue. This music had such a huge impact on the show, it wasn't just for fight scenes or special effects scenes. It scored scenes of conversation and drama and those were done on just as big a level as the space action and the fight scenes. One of the biggest musical moments in the show is in the episode "The Doomsday Machine" and it's just written for William Windom standing up and getting out of the captain's chair and Mr. Spock sitting down. This one little simple moment of drama where this obsessed character is forced to give up command on a technicality has music screaming the character's frustration and anger at being forced out of command. It's an incredible piece of music and all of that type of drama was done on that level, but it could never have been done on television like that now. When you listen, you're almost getting the full impact of the episode just in the music. That's what is amazing when people listen to this set – they're getting all of the emotional impact of all of those stories and the characters, but in the form of this really superb orchestral music.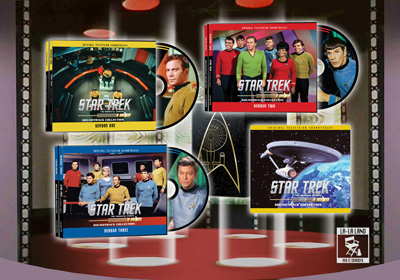 The Star Trek: TOS Complete Soundtrack set is broken down into the three separate seasons of Star Trek: The Original Series. Each season gets its own special disc casing.
The 15-CD boxset will contain all episode scores as heard in all three original seasons of Star Trek. This special collection has been newly remastered from studio elements and features hours of material previously unreleased in any format. The set is limited to 6,000 units and will be available exclusively from www.lalalandrecords.com at 1pm (PST). The retail price will be $224.98.
To complement our interview with Jeff Bond, TrekCore is able to bring you some more exclusive sample tracks from the release for your listening pleasure! You can stream the tracks directly or save them to your computer by right clicking on the links.
Monster Illusion (from "The Cage", Alexander Courage)
Space Cube / Condition Alert (from "The Corbomite Maneuver", Fred Steiner)
Apollo's Storm (from "Who Mourns for Adonais?", Fred Steiner)
Lonely to Dramatic (library cue, Joseph Mullendore)
The Right Button / Death of Miramanee / End (from "The Paradise Syndrome", Gerald Fried)
We look forward to being able to bring you a full review of this iconic set soon, so be sure to watch out for that! In the mean time, guarantee your order by ordering from www.lalalandrecords.com at 1pm (PST) on December 4th 2012.