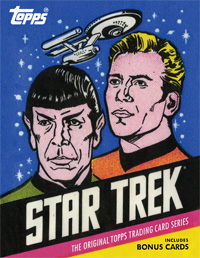 After the tremendous success of the behemoth that was TNG 365, Star Trek's literary power couple Paula Block and Terry Erdmann are once again wading knee-deep in the unexplored depths of non-fiction Star Trek work. Their latest creation is set to transport fans back to the 1970s when Topps released a series of collectible trading cards featuring full-color images from Star Trek's original series. We've got all the pre-release information on "Star Trek: The Original Topps Trading Card Series Book" which is set to hit shelves this September. Publishers Abrams sent over the following description:
Ever since Star Trek first aired on television in 1966, the series has had a strong influence on pop culture. In 1976, due to the show's rising popularity in syndication, Topps released a series of collectible trading cards featuring full-color images from the classic television series created by Gene Roddenberry, as well as synopses and information on the cast and crew of the Starship Enterprise. This first-ever compilation includes the fronts and backs of all 88 cards and 22 rare and hard-to-find stickers (which were originally sold one per pack), as well as text and commentary by Star Trek insiders Paula M. Block and Terry J. Erdmann—guaranteed to please the die-hard Trekkie as well as a whole new generation of fans.
TrekCore got in touch with Paula and Terry to hear their brief thoughts on the book before the holiday weekend. We hope to have a more detailed interview with them both at a later date.
Paula: This was a really fun assignment that took me straight back to my roots in fandom. In 1976 I was actively attending Star Trek conventions all over the country with my friends. Ironically, Topps' Star Trek cards weren't sold at those conventions—for reasons we get into in the book.

Terry: The opportunity to track down and speak with Len Brown and Gary Gerani, the guys who created the Topps Star Trek card set in l976, was a treat. I was always a big fan of bubble gum premiums, and working on this book made me feel young again.
We'll have more information on the new release soon. In the meantime, you can pre-order the book from Amazon using the links below – it's set to be released on September 10, 2013.
| | |
| --- | --- |
| | Pre-Order Star Trek: The Original Topps Trading Card Series Book |