August 6th will see a special release from soundtrack label GNP Crescendo in the form of an expanded edition of Jerry Goldsmith's Star Trek: Insurrection score.
The first soundtrack was initially released fifteen years ago in conjunction with the film, but this Expanded Collector's Edition includes nearly thirty minutes of additional music from the 1998 film, along with several alternate tracks!
According to GNP Crescendo's website, the expanded edition also includes "a 16-page booklet, copiously illustrated with film stills, includes authoritative notes by Jeff Bond (author of The Music of Star Trek: Profiles in Style) and Lukas Kendall."
We've got an look at the track listing for the album. Those tracks listed in bold were not included on the original release:
1. Ba'ku Village (6:53)
2. Out of Orbit / Take Us In (1:44)
3. Come Out (2:34)
4. In Custody (1:14)
5. Warp Capability / The Planet / Children's Story (2:33)
6. The Holodeck (4:35)
7. How Old Are You / New Sight (6:14)
8. Lost Ship / Prepare the Ship (2:39)
9. As Long as We Can (1:40)
10. Not Functioning / Send Your Ships (2:55)
11. Growing Up / Wild Flowers / Photon Torpedo (2:55)
12. The Drones Attack (4:15)
13. The Riker Maneuver (3:15)
14. Stay With Me (1:48)
15. The Same Race (2:50)
16. The Collector (1:10)
17. No Threat (4:18)
18. Tractor Beam (0:38)
19. The Healing Process [revised] (5:04)
20. The Healing Process [original version] (7:17)
21. End Credits (5:30)
22. Ba'ku Village [alternate ending] (3:53)
23. The Holodeck [alternate opening] (1:12)
24. Growing Up [alternate] (1:21)
25. Tractor Beam [alternate] (0:38)
GNP Crescendo have already previously released similar limited edition expanded soundtracks for Star Trek: Generations and Star Trek: First Contact.
UPDATED: GNP/Crescendo have just sent over high-resolution artwork for the new release: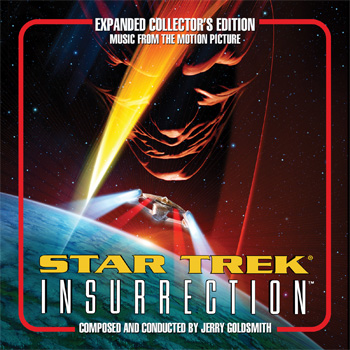 You can head on over to GNP Crescendo's website to secure your pre-order for $19.98.
Other Expanded Soundtracks Also Available: