Well, it's Tuesday again – time for another catch-up on Star Trek: Discovery news from around the web this past week!
First up, just announced today, is a Prizeo contest from Discovery guest star Rainn Wilson, where two lucky fan will win a trip to a Hollywood premiere of the new series, through donating to the LIDE Haiti foundation.
You and a friend can attend the Star Trek: Discovery premiere and cast party on September 19, 2017 as the guest of an interstellar con man—me! We'll beam you out and put you up in a hotel. You'll see CBS' hit new show before anyone else and hobnob with the stars. All it takes is a donation of $10 to LIDÈ Haiti.

My wife, Holiday, and I started LIDÈ Haiti to help provide education to girls in rural Haiti. We use the arts to empower the girls in this community, and the results have been spectacular.
Other prizes are also available as donation perks, including Discovery shirts, pins, and puzzles.
*   *   *
Retailer Popfunk has launched two lines of Discovery T-shirt designs, including both logo wear and a series of Discovery-themed uniform prints from all four assignment divisions.
*   *   *
Writer/producer Ted Sullivan has continued to reveal Discovery production photos from the set of the show up in Toronto, revealing some more neat looks at the series' sets.
First up is Captain Georgiou's command chair from the USS Shenzhou:
Next is a look at a Starfleet medal awarded to the Shenzhou's commander: the Star Cross, also awarded to both Jonathan Archer in the 22nd Century, and Data in the 24th.
Finally, confirmation from Sullivan that the odd-looking honeycomb-like chamber glimpsed briefly in the May teaser trailer is in fact part of the Shenzhou sickbay set.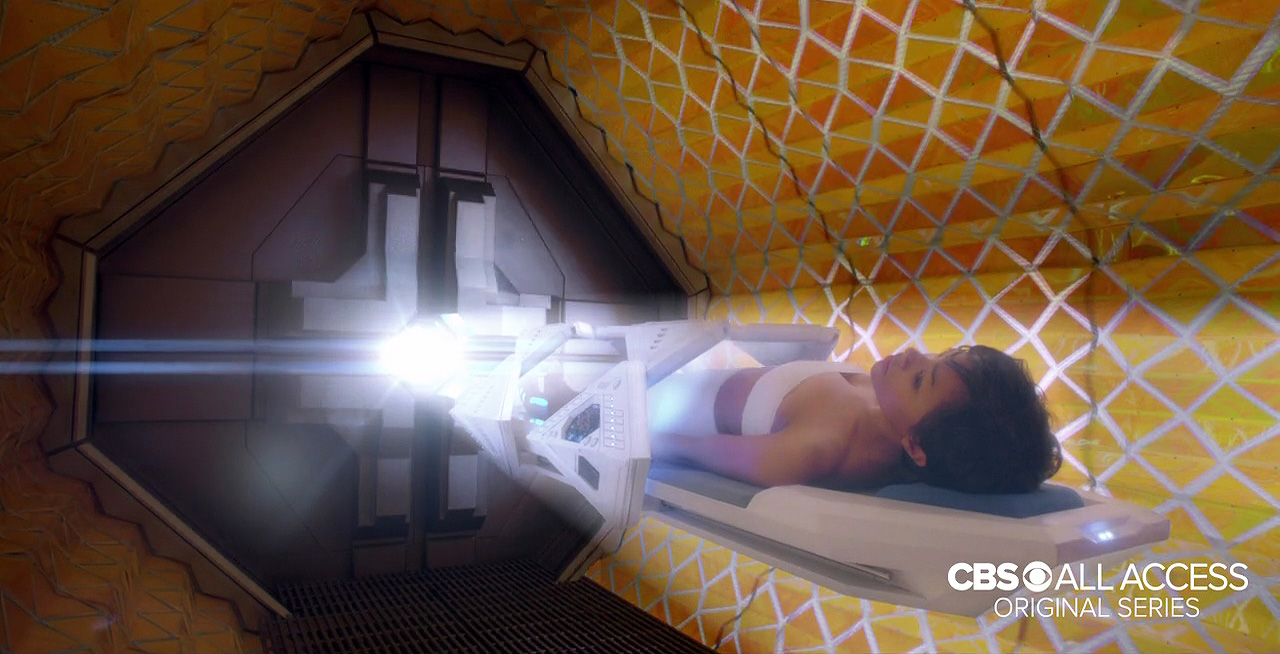 *   *   *
Over at the CBS All Access Star Trek: Discovery page, this new artwork cropped up featuring a thruster-suit-wearing Burnham standing on the edge of the USS Discovery saucer.
*   *   *
Lastly this evening, another series of promotional videos released by CBS: a final character promo focusing on the Klingon Voq — played by an actor we still are unable to confirm…
…another stylized look at the Starfleet gear worn by the new crews – along with a tiny, brief glimpse of the Discovery interior…
…and a new promo released today, where Captain Lorca (Jason Isaacs) welcomes Michael Burnham (Sonequa Martin-Green) to the Discovery, speaking the character's name aloud for the first time.
While much of this newest trailer is familiar, a few shots of our lead show her in what seems like pretty severe emotional distress, including one view of Burnham on her knees, screaming on the Shenzhou transporter platform.
Perhaps her away mission to the Klingon vessel with Georgiou (seen in the Comic Con trailer) doesn't go so well.
Keep checking back to TrekCore for more Star Trek: Discovery news as it breaks!